10CRIC is one of the best betting websites going around that offers its sports betting and live casino services only to Indian players. It covers more than 60 sports in its sportsbook with a major focus on Cricket. 10CRIC also offers a very smooth running betting app both on Android and iOS devices which makes the life of users easy in terms of betting and for those who want to indulge in live online casino.
Live Streaming
Free Bet
Cricket Bonus
IOS App
Android App
Live Casino
Casino
Simulated Reality League
Live Chat
Crypto Payment
Customer Support
10CRIC offers various options on pre-market, live and outright betting, especially for popular tournaments in cricket like IPL, BBL, World Cup etc. What makes 10CRIC unique is that it comes up with tournament specific promotions and bonus offers for the users while the Welcome Bonus remain as well. This keeps users engaged all the time on 10CRIC.
10CRIC is certainly the one-stop destination for the betting geeks thanks to its simple and attractive design, amazing betting options and variety of promotions.
The 10CRIC welcome bonus is a 200%. This has to be one of the best bonuses available for India players

Here are some of the pros and cons of 10CRIC:
Pros
Preference for Cricket
Tournament specific promotions
User-Friendly interface
Excellent live-match coverage
24/7 support
Streamlined betting process
Cons
Available only in India
No live streaming of matches
Tough to find the app link on the website if you are not registered on 10CRIC
Services provided only in India as of now
Now let us review the site in detail in this 10CRIC review.
10CRIC Cricket
10CRIC, as the name suggests, has prioritised cricket on its betting site. As soon as you register on 10CRIC, cricket is the first sport on the sportsbook at the extreme left of the screen. Also, the scheduled match of the tournaments going on is listed at the centre of the screen with its pre-match odds with Cricket invariably at the top. 10CRIC cricket betting is a wholesome experience, especially for a cricket fan with the site being designed keeping them in mind with a lot of action going on across the world.
Another excellent feature 10CRIC offers in its cricket betting are that you can also add certain tournaments to your favourite list to access them pretty easily. The favourites list will be visible on top of the sportsbook available. At the centre of the screen, where the matches are listed, you just have to click on the star symbol available near the tournament name. You can also add a particular match favourites list, again by clicking on the star symbol available near the listed match.
10CRIC, in its cricket betting, covers all types of cricketing action taking place across the globe including the T20 leagues, international cricket and domestic cricket as well. Currently, you can enjoy 10CRIC cricket betting on the following tournaments:
Indian Premier League (IPL), County Championship, Women's Regional T20 Cup, Bangladesh vs Sri Lanka and England vs New Zealand Test series, Namibia vs Zimbabwe T20I series, and ECS Stockholm Sweden T10 among others.
Interestingly, 10CRIC also offers Simulated Reality League in its cricket betting which currently has BBL, PSL and T20Is going on.
10CRIC Live Cricket Coverage
10CRIC live cricket coverage is another wholesome experience for users, especially cricket fans. If you are not watching a game live, then you need not worry as 10CRIC takes care of you giving you an exactly similar experience with its live cricket coverage.
Firstly, once you click on the live match that is in progress, 10CRIC provides you with a lot of options to bet and there are also tabs which filter bets for you. All markets, main markets, match, delivery and over are the filter options provided which help you to navigate through to your favourite betting option quickly during the live match.
Coming on to 10CRIC live cricket coverage, there is a tab called 'Live Match Tracker' which shows you a detailed scorecard along with the real feel of the live match. It shows which current bowler and batters are playing in the middle and also provides you with the pitch map of the ongoing over along with the ball by ball details.
This enables a user to stay updated about the live match and bet on favourable odds accordingly. Inside the 'Live Match Tracker' tab, apart from the scorecard, there are three more tabs – Statistics, Head to Head and Lineups.
Statistics gives you the wagon wheel of the team-wise innings and also provides detailed information on singles, doubles, fours and sixes hit in the innings. Head to Head provides you with the data of the recent form of both teams in action. The lineups tab shows the playing XI of both teams which rounds off your overall experience of watching a live cricket match.
Besides 'Live Match Tracker' there is another tab called 'Statistics' that gives you all the required information – a recent form of two teams, Head to Head stats between two teams, what happened in the last five meetings between two teams etc. This helps you majorly while betting on the outright odds related to the match.
please go into detail on how you can view the live games. I will do screenshots on this to support the text. It's a very cool feature and only needs players to register
10CRIC Bonus
10CRIC bonus is one of the exciting features to explore for users and make the most of it. 10CRIC offers a variety of bonus offers depending on the tournament going on. Currently, the 10CRIC bonus section is filled with offers related to IPL even in Casino. You can find all the bonuses in the 'Promotions' tab on the website.
How to use the 10CRIC bonus? This will be a common question in the mind of any user. Sit back and relax. We are bringing you a detailed explanation for the same. 
10CRIC Welcome Bonus
10CRIC has come up with an exciting welcome bonus offer:
100% up to ₹30,000 bonus on your 1st deposit
100% up to ₹30,000 bonus on your 2nd deposit
50% up to ₹40,000 bonus on your 3rd deposit
In other words – you will get your money doubled right on your first deposit. And seriously savvy players who actually deposit over ₹10,000 will receive 10% Extra on top of the bonus to score even more!
The deposit and bonus amount must be rolled over 12 times on settled sports bets with odds of at least 1.60, excluding any type of handicap (except 3-way handicap) and Draw No Bet Bets. The bonus will expire after 90 days.
Another 10CRIC Welcome bonus that will excite its users is that it gives a chance to even the casino users to bet on available betting markets in IPL. Casino players can triple their money on their first three deposits on 10CRIC.
The minimum first deposit amount to be eligible for this promotion is INR 1000 and you have to enter the 10CRIC deposit bonus code WELCOME' to get a 150% bonus up to INR 15000. You will get a free IPL bet worth INR 500 once you are done with using this bonus. You will get the free bet only if the rollover requirements on the bonus amount have been met or after the bonus amount is spent and it is no longer active.
The users have to use their bonus within 15 days. If the bonus amount is expired, then Free Bet will not be awarded. Also, the Free Bet can be used only on the available market in IPL with the odds of a minimum of 1.5. Free Bet will expire 14 days after being credited into your account.
Moreover, if your deposit is INR 10,000 or more, you also get a 10% extra bonus.
What other bonuses does 10CRIC offer?
10CRIC consistently offers a variety of bonuses tailored to current cricket tournaments, including specific promotions and free bets during the Vitality Blast, Big Bash League and IPL 
They also feature weekly offers where users can win signed merchandise from Chris Gayle, their brand ambassador. We will keep you posted when new tournament bonuses are offered.
Men in Blue Bonus
Place a pre-match bet of ₹500 or more on India to win against Australia with 10CRIC between 22 Nov and 3 Dec, and if India wins both the match and the Coin Toss, your winnings will be doubled up to ₹2,000 as a Free Bet. This offer is available once per match, with Free Bets credited after 14:00 IST the day after the match.
IPL special bonuses
Celebrate the return of the world's most successful domestic T20 competition with special offers and promotions.
IPL Teams Super Specials
In previous promotions, 10CRIC has provided IPL Teams Super Specials, where users receive specific bet boosters by depositing with one of the ten designated IPL team codes. Upon making a deposit with these codes, users receive corresponding rewards, such as Free Bets or Sports Bonuses. Lets hope they offer this in 2024 too!
Simulated Reality Cricket (SRL) 
Score up to ₹2,000 Free Bets EVERY week on top of that!
Wondering what simulated reality league cricket live streaming is? It's based on the current form of the actual teams, plus their historical performances – so it's as close to real-life cricket as it gets.
And to score that Weekly Free Bet, you just need to bet multiple times in one week on SRL cricket. You then get a Free Bet the following Monday with a value determined by how many days you bet in the previous week:
| | |
| --- | --- |
| No. of days betting ₹3,000+ (Mon – Sun) | Free Bet (awarded following Monday) |
| 3 | ₹ 250 |
| 4 | ₹ 500 |
| 5 | ₹ 750 |
| 6 | ₹ 1,000 |
| 7 | ₹ 2,000 |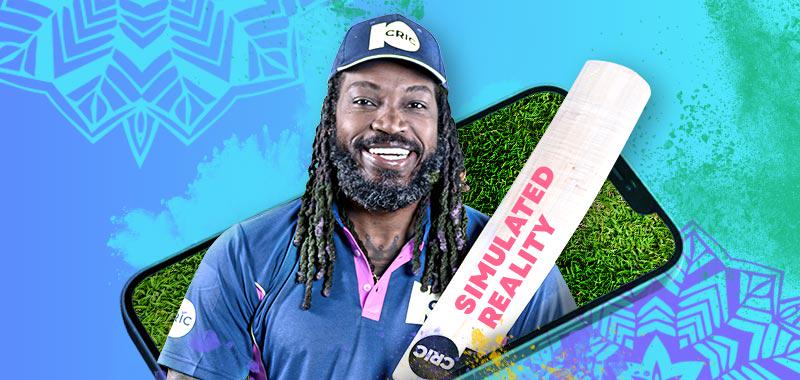 This means that the more you bet, the more you get. So raise your bat for Weekly Free Bets – The Boss can't wait to see you win!
Follow these steps to earn Free Bets:
Log in to your 10CRIC account every week
Place ₹3,000+ bets on at least three separate days on any SRL cricket matches (min. odds 1.50) from Monday to Sunday (00:00 – 23:59 IST)
We'll credit your Weekly Free Bet the following Monday after 14:00 IST as per the table above!
10CRIC Bonus Code
Bonus code for 10CRIC is already mentioned in the 10CRIC welcome bonus section. However, another bonus code the betting site offers is with the payment method you use to deposit the money. If a user deposits a minimum of INR 1000 with JetOn as its payment method and uses the 10CRIC bonus code for sports 'JETONSPORT', then they get a 100% bonus up to INR 2000.
The deposit and bonus amount must be rolled over five times on sports bets with odds of at least 1.60 excluding any type of handicap (except 3-way handicap) and Draw No Bet Bets. The rollover requirements must be met within 7 days of your deposit or else the bonus amount will expire.
1 LAKH Welcome Bonus Plus 40 Free spins gift with bonus code "WELCOME"
10CRIC Free Bet
Are there any free bet offers? This is a common question among new users of 10CRIC. But 10CRIC doesn't offer any free bet directly after creating a new account. You will have to bet on Simulated Reality Cricket (SRL) to get 10CRIC Free Bet. You have to bet for more than INR 3000 on at least three separate days of a week (Monday-Sunday) on any SRL cricket matches with minimum odds of 1.50 to be eligible for a free bet of INR 250 on the following Monday.
The more you bet on different days of a week for more than INR 3000, the more you will get.
| | |
| --- | --- |
| No of days betting for INR 3000+ (Mon-Sun) | 10CRIC Free Bet awarded |
| 3 | INR 250 |
| 4 | INR 500 |
| 5 | INR 750 |
| 6 | INR 1000 |
| 7 | INR 2000 |
10CRIC Comparison
| | | | |
| --- | --- | --- | --- |
| Sportsbook | | | |
| Live Betting | | | |
| Casino | | | |
| Live Chat | | | |
10CRIC Casino
The 10CRIC casino is more of a secondary focus for 10CRIC but that doesn't mean they have not provided an excellent selection of games and promotions. At 10CRIC casino, you will find over 800 games from a variety of software providers. Not only is there a huge collection of games but there is variety as well. You will find a good number of slots including jackpot slots such as the popular Mega Moolah.
Also, 10CRIC have over 30 tables for you to play on in their immersive live casino which is primarily operated by Evolution Gaming, one of the best software providers of live casinos in the online gambling industry. 10CRIC have an array of promotions for its online casino and live casino, including a Wicked Slots tournament which has been created thanks to 10CRIC's partnership with the CPL.
This promotion gives 80 players the chance to get a share of ₹4,00,000, with the highest amount a player can receive being ₹30,000.
The 10CRIC Casino welcome bonus is an industry topping  ₹70,000 and up to ₹5,000 in Free Bets.
How to claim your casino bonus:
Deposit 1,000+ with code as per the table below.
You'll get a Casino Welcome Bonus and a Free Bet as follows:
| | | | |
| --- | --- | --- | --- |
| Deposit | Bonus | Code | Free Bet |
| 1st | 100% up to ₹20,000 | TOPPLAY1 | ₹ 1,000 |
| 2nd | 75% up to ₹25,000 | TOPPLAY2 | ₹ 2,000 |
| 3rd | 50% up to ₹25,000 | TOPPLAY3 | ₹ 2,000 |
10CRIC also have a fantastic live casino bonus of 150% up to ₹20,000. Such an offer is not available in the UK or other major countries.
How to claim your live casino bonus:
Make your first deposit with code CRICLIVE
You'll get a 150% up to ₹20,000 Live Casino Welcome Bonus!
10CRIC App
10CRIC offers its app for both Android and iOS users. But not having an account on 10CRIC will make it tedious for you to find out the link to download the 10CRIC App. It is clearly one of the drawbacks of the website as you cannot find the download link easily without creating an account on
10CRIC. If you don't want to create an account and wish to get the link for the 10CRIC App download, then follow the below steps:
Open the 10CRIC website on your computer/laptop
Scroll down to the end and under 'Best Of 10CRIC', you will find an option to click on '10CRIC App Aff Page'
A new window will open with a QR code providing a direct link to the app of 10CRIC download.
Scan the QR code and open the link provided to download the 10CRIC App
10CRIC App review is one of the trending topics to discuss among the users as well. 10CRIC app is very similar to its desktop site with its yellow and black design which looks appealing. It gives you easy access to the sportsbook, especially cricket, the moment you log in to 10CRIC on its app. The user-friendly design of the 10CRIC app makes it extremely easy to use for interested people.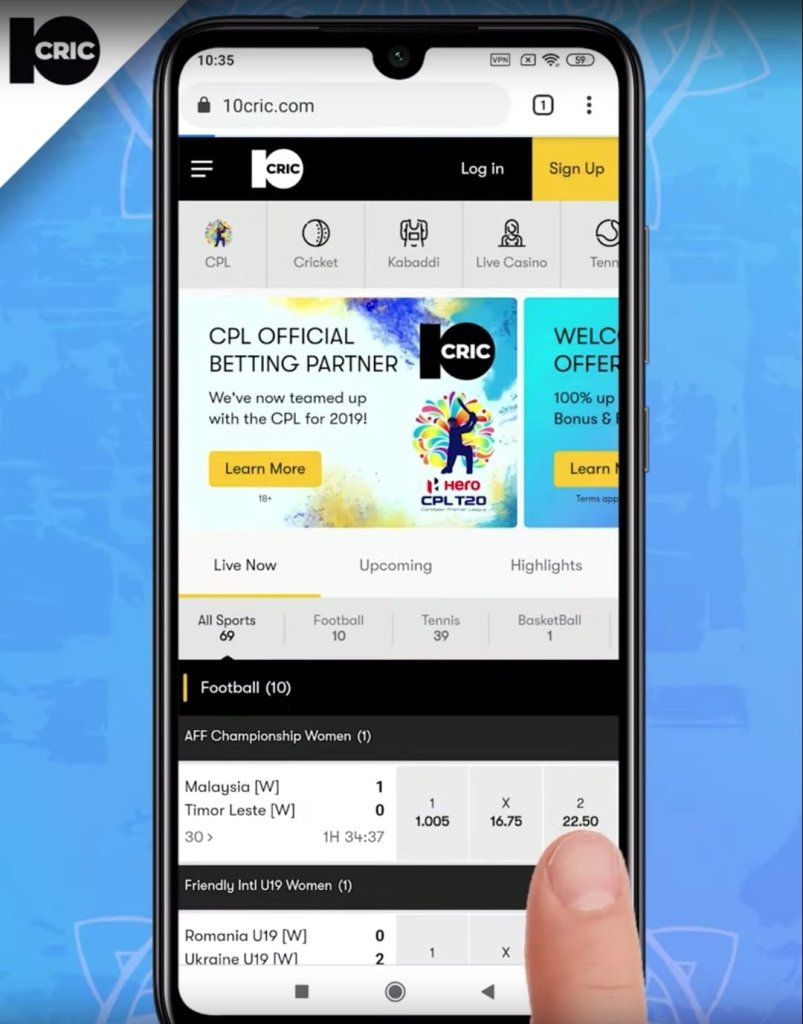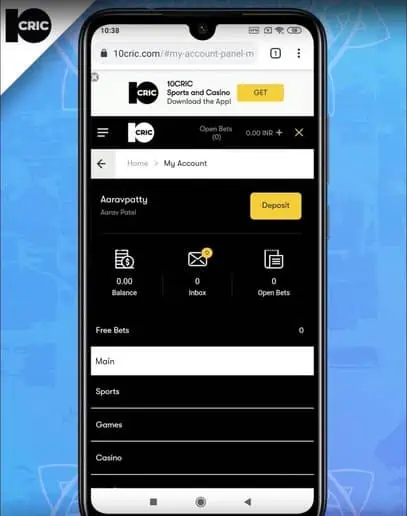 How to download and install the 10CRIC app on Android?
Time needed: 2 minutes.
The 10CRIC app android download process is extremely simple if you already have an account on 10CRIC. If not, you will have to open the 10CRIC site on mobile and create an account and perform the following steps:
Visit 10cric  - Visit the 10CRIC website on your android mobile device and log in to your account.
Select menu - Click on the menu (beside the deposit button which is in yellow) on the right side of the screen,
Visit download page - Click on 'Download App' that will take you 10CRIC app download page.
Download & Install - Click on the 'Download and Install' yellow button which provides you with a 10CRIC app apk to download
Open APK - Once the 10CRIC App apk download is done, click OPEN to open it.
Allow install - Your Android device will need a change in settings to allow third-party app installations. Click Settings and move the slider to allow the 10CRIC App to install.
Confirm install - Click on any notifications that pop up to allow access.
Done - Boom! 10CRIC app download for Android is done and you can now login to the app and enjoy its seamless experience.
How to download and install the 10CRIC app on iOS?
10CRIC also offers an app for iOS users. Open the 10CRIC website and log in to your account on your iOS device to proceed with the 10CRIC App iOS download. Follow the below steps:
Click on the menu on the left and choose the download App option
Click on the 'Download and Install' yellow button
10CRIC app apk is downloaded now. Click to open it.
On the pop up that comes up, click on Install.
On your iPhone/iPad, go to Settings > General > Device Management > installed app developer, click Trust and confirm in the popup by clicking Trust
10CRIC app ios download is complete now and you can enjoy betting on the 10CRIC app.
10CRIC Betting
10CRIC betting is one of the easiest things on planet earth to do. Went a bit overboard? Let us explain it to you. 10CRIC online betting is the best thing on the betting site thanks to its easy and simple design. 10CRIC cricket odds are visible on the home screen itself and you straight away pick the odds you are wishing to bet on. Once you select the odd, the betting slip is generated at the extreme right of the screen. You can also check out the 'My Bets' tab which is present beside the betting slip section making it easy for the users to keep a tab of their bets and earnings.
10CRIC offers a variety of odds – pre-match, live-match and outright – for its users which keeps them engaged right through. Apart from cricket, the users can bet on sports like Kabaddi, Hockey, Badminton, Tennis, Baseball, Football and many more.
10CRIC betting tips or steps to place a bet are mentioned in the below segment.
How to place a bet on 10CRIC?
Placing a bet on 10CRIC is extremely easy. Similar steps are needed to be followed for pre-market, live or outright betting. Below are the steps:
Enter your username and password to log in to your 10CRIC account
Take your pick from sports for pre-match, outright or live betting of an ongoing match.
Choose one match from the list of many and tap on it
Find the market you want to bet on. 10CRIC has also divided certain market bets for your convenience. You can choose accordingly.
Once the market is selected, select the stake in the betting slip and click on 'Place Bet'. If the odds are updated during a live game before you place a bet, then you are informed about the same and if you give a go-ahead, then the bet is placed on the updated market.
 
10CRIC India
10CRIC India driven sports betting platform has led to sports you would struggle to find on other sportsbooks, become readily available on the 10CRIC site. There are over 55 different sports markets for India players to place a stake from cricket and kabaddi, with every sport holding a variety of wager options.
One of the major benefits of 10CRIC having a strong focus on its Indian players is the wide range of deposit and withdrawal options. Furthermore, the option to deposit and make withdrawals in Indian Rupees (INR) is available with 10cric. This great to hear for sport bettor in India, as it removes the frustration of incurring charges and potentially losing money when claiming their winnings.
10CRIC doesn't just cater to players needs by providing the local currency and popular sports markets in India, but it has upheld a high standard in the design and functionality of its sportsbooks. It wouldn't have been a surprise if 10cric provided appealing features of their sportsbook but then had a lower standard elsewhere on their online sportsbook, as this has occurred in the past in other countries.
However, I'm glad to say that the features that sports bettors in India and elsewhere in the world have grown to love such as live betting and cash-out options are readily available with 10CRIC.
What are the best features of 10CRIC?
Preference for Cricket
10CRIC Sportsbook offers a variety of sports to bet on. But cricket always remains at the top as it covers all kinds of cricketing action going around, international, domestic and everything. Even the live cricket matches or upcoming popular cricket games can be viewed on the homepage itself.
Tournament specific bonuses
10CRIC has an exciting welcome bonus offer. But what makes it unique is its variety of bonus offers for specific tournaments almost for every major sport, especially cricket. 
24/7 support
10CRIC has a dedicated team to solve the problems of its users. There is a 24/7 live chat option or you can also call the contact number listed under the 'Contact Us' section. You can also email your concerns at [email protected].
Easy deposit and withdrawals
The deposit method and withdrawal processes are extremely quick on 10CRIC thanks to the popular payment option on offer and a streamlined process. There is no hassle withdrawing your money as well.
Self Exclusion
10CRIC believes in responsible gaming and has offered its users a self-exclusion feature in case they are getting addicted to betting. In this case, the user has to contact customer support and request for self-exclusion for a period of either 1 week, 2 weeks, 1 month, 3 months or a maximum of six months.
What is the 10CRIC Sign Up process?
10CRIC Sign up process is extremely easy as you are needed to give only your basic details to create your account. Follow the below steps:
Click on the Join Now tab at the extreme top right of the screen to start the 10CRIC register process.
Enter your personal information including name, date of birth and email ID.
Enter your contact information, including your country, phone number, and home address.
The third and final step to register on 10CRIC is to enter account information – username, password, your preferred currency.
Once you enter all the above details, then click on Create Account.
Boom! You are registered on 10CRIC and you can now enjoy betting on a variety of sports.
If you already have an account, just click on Login and provide the email ID and password. Once login is done, you can start betting.
Is 10CRIC Legal?
10CRIC is legal. The company is established under the laws of Curacao with a registered address at Kaya Richard J. Beaujon Z/N, Curacao and has its gaming sublicence No. 1868/JAZ issued by Curacao e-Gaming and all rights to operate the gaming software.
Is 10CRIC legal in India?
We can tell you unequivocally that 10CRIC is legal in India. Sports betting has always been a grey area in India and with the rise of online sports betting worldwide, India has been a slow mover. Indian bettors love to place bets on sports, mainly cricket and in the past, there hasn't been a reliable platform to do so online.  This resulted in Indian players using flat-out illegal ways to place wagers. But, this is no longer necessary as the online sports betting platforms now available in India are very secure and reliable, and most importantly not illegal. 10CRIC is leading the way in India in bringing sports betting to the next level in India and if they are to do so they aren't going to break any rules.
To facilitate legal gambling for Indian players, 10CRIC offers the leading deposit methods and many withdrawal options – Bank Transfer, Mastercard, Visa, bitcoin, Neteller, Skrill and ecoPayz.
About 10CRIC
10CRIC is a perfect place for sports fans, especially cricket fans, to bet on, as it offers various options and plenty of top promotions, bonuses, and other perks. 10CRIC offers more than 60000 unique betting events each week on around 60 sports across the globe. The easy design of the app and website, huge betting markets, professional customer services, and convenient deposit methods and withdrawals make 10CRIC one of the best betting websites.