RCB vs PBKS Head to Head
Punjab Kings have had the upper hand in the RCB vs PBKS head to head clashes over the years. The Kings have a win percentage of 54% compared to 46% of the Royal Challengers.
Surprisingly though, RCB have had the better of PBKS at home as well as away from home. RCB have won 54% of the matches played in Bangalore and 57% of the matches played in Mohali between the two sides.
Punjab Kings have loved batting second against RCB, winning 56% of the matches while chasing the target in RCB vs PBKS head to head games. PBKS have dominated elsewhere with a 70% win record, having claimed 7 of the 10 games.
Head to Head
RCB Played
RCB Won
RCB Win %
PBKS Played
PBKS Won
PBKS Win %
Overall
28
13
46%
28
15
54%
Bat First
16
7
44%
12
6
50%
Bowl First
12
6
50%
16
9
56%
Home
11
6
54%
7
3
43%
Away
7
4
57%
11
5
46%
Neutral
10
3
30%
10
7
70%
RCB vs PBKS Team Results
 
 
 
 
 
RCB and Punjab King have produced some high-scoring matches in their rivalry over the years and their average innings scores depict it perfectly. RCB have scored 171 runs on average batting first while PBKS' average first innings total reads 169.
The highest team total recorded by RCB against Punjab was 226 while PBKS had blasted 232 against Bangalore once. As for the lowest totals, Punjab Kings were skittled out for 88 once while RCB were restricted to 109 on one occasion.
RCB claimed both the league matches of the RCB vs Punjab head to head games in 2019 as well as in 2018.
Head to Head
RCB
PBKS
Highest Team Score
226
232
Lowest Team Score
109
88
Average 1st Inn Score
171
169
Average 2nd Inn Score
144
151
RCB vs PBKS Team Scores
 
There have been some utterly ridiculous individual performances in the PBKS vs RCB head to head clashes in the IPL. Who can forget KL Rahul bludgeoning 132* against RCB or Chris Gayle's 117 against Punjab Kings.
As for the overall runs tally, Virat Kohli leads with 741 runs for RCB. KL Rahul amassed 449 runs against his old and home state-based team when he donned a PBKS jersey.
Yuzvendra Chahal, a most important player in their playing XI, leads the bowling charts in this rivalry with 25 wickets to his name for RCB. Sandeep Sharma has the most – 16 wickets – from the PBKS side.
The highest score came from a former Royal Challengers Bangalore playing XI regular – KL Rahul, who smashed 132* against his former franchise.
Head to Head
RCB
PBKS
Most Runs
741 – Virat Kohli
449 – KL Rahul
Highest Individual Score
117 – Chris Gayle
132* – KL Rahul
Most Wickets
25 – Yuzvendra Chahal
16 – Sandeep Sharma
Best Bowling Figures
4/14 – Sreenath Aravind
4/17 – Piyush Chawla
RCB vs KKR Individual Scores
 
In the year 2019, the last time these two teams met on Indian soil, RCB and KXIP played two matches against each other. In the first match that took place on April 13, RCB registered a victory against KXIP by 8 wickets.
While in the second match RCB managed to win against KXIP by 17 runs. In the first match, Kohli's knock of 67 runs and Villiers' 59 runs played a crucial role in defeating KXIP.
Chris Gayle of KXIP played a blistering knock of 99 runs but it went in vain. In the match, Kohli appeared confident right from the start.
The captain looked in control and kept the asking rate in control. Soon after Kohli got out, de Villiers took control of things and successfully chased the score, rubbishing the pitch report and predictions.
Earlier, KXIP made 173 runs for the loss of 4 wickets. RCB chased the target without any discomfort for the loss of two wickets. KXIP did not display a strong bowling attack as almost all players were hit either for fours or sixes.
The game appeared to be a one-sided match throughout as RCB chased the target without any problems.
Punjab Kings have an edge over RCB when it comes to a neutral venue - Cricket Betting
Considering the IPL 2022 will be played in Maharashtra entirely – four neutral venues for both RCB and PBKS – we will look into how they have fared against each other.
The two teams have competed in 10 matches at neutral venues, of which PBKS have won 7 while RCB have won 3.
Both the teams have been evenly matched when it comes to the matches played on Indian soil, winning 11 matches each. In the 2021 season, both the teams won a game each while PBKS claimed both the games in the IPL 2020 in Punjab vs RCB head to head.
Tournament
Match Date
Venue
Match Winner
Margin
IPL 2022
5/13/2022
Mumbai
PBKS
Won by 54 runs
IPL 2022
3/27/2022
Mumbai
PBKS
Won by 5 wickets
IPL 2021
10-03-2021
Sharjah
RCB
Won by 6 runs
IPL 2021
4/30/2021
Ahmedabad
PBKS
Won by 34 runs
IPL 2020
10/15/2020
Sharjah
PBKS
Won by 8 wickets
IPL 2020
9/24/2020
Dubai
PBKS
Won by 97 runs
IPL 2019
4/24/2019
Bangalore
RCB
Won by 17 runs
IPL 2019
4/13/2019
Chandigarh
RCB
Won by 8 wickets
IPL 2018
5/14/2018
Indore
RCB
Won by 10 wickets
IPL 2018
4/13/2018
Bangalore
RCB
Won by 4 wickets
IPL 2017
05-05-2017
Bangalore
PBKS
Won by 19 runs
IPL 2017
04-10-2017
Indore
PBKS
Won by 8 wickets
IPL 2016
5/18/2016
Bangalore
RCB
Won by 82 runs
IPL 2016
05-09-2016
Chandigarh
RCB
Won by 1 runs
IPL 2015
5/13/2015
Chandigarh
PBKS
Won by 22 runs
IPL 2015
05-06-2015
Bangalore
RCB
Won by 138 runs
IPL 2014
05-09-2014
Bangalore
PBKS
Won by 32 runs
IPL 2014
4/28/2014
NA
PBKS
Won by 5 wickets
IPL 2013
5/14/2013
Bangalore
PBKS
Won by 7 wickets
IPL 2013
05-06-2013
Chandigarh
PBKS
Won by 6 wickets
IPL 2012
05-02-2012
Bangalore
PBKS
Won by 4 wickets
IPL 2012
4/20/2012
Chandigarh
RCB
Won by 5 wickets
IPL 2011
5/17/2011
Dharamsala
PBKS
Won by 111 runs
IPL 2011
05-06-2011
Bangalore
RCB
Won by 85 runs
IPL 2010
04-02-2010
Chandigarh
RCB
Won by 6 wickets
IPL 2010
3/16/2010
Bangalore
RCB
Won by 8 wickets
IPL 2009
05-01-2009
Durban
RCB
Won by 8 runs
IPL 2009
4/24/2009
Durban
PBKS
Won by 7 wickets
IPL 2008
05-12-2008
Chandigarh
PBKS
Won by 9 wickets
IPL 2008
05-05-2008
Bangalore
PBKS
Won by 6 wickets
RCB vs PBKS IPL Matches Since 2008
 
 
RCB vs PBKS Toss
Royal Challengers Bangalore have been a more fortunate side when it comes to the RCB vs PBKS toss results. Of the 28 matches between the two, RCB have won the RCB vs PBKS toss on 15 occasions while PBKS have been lucky 13 times.
When it comes to the match results, RCB have won only 40% of their matches – 6 out of 15 – when they've won the toss. Similarly, PBKS have a win percentage of 46% (6 out of 13) when the RCB vs Punjab toss has landed in their favor.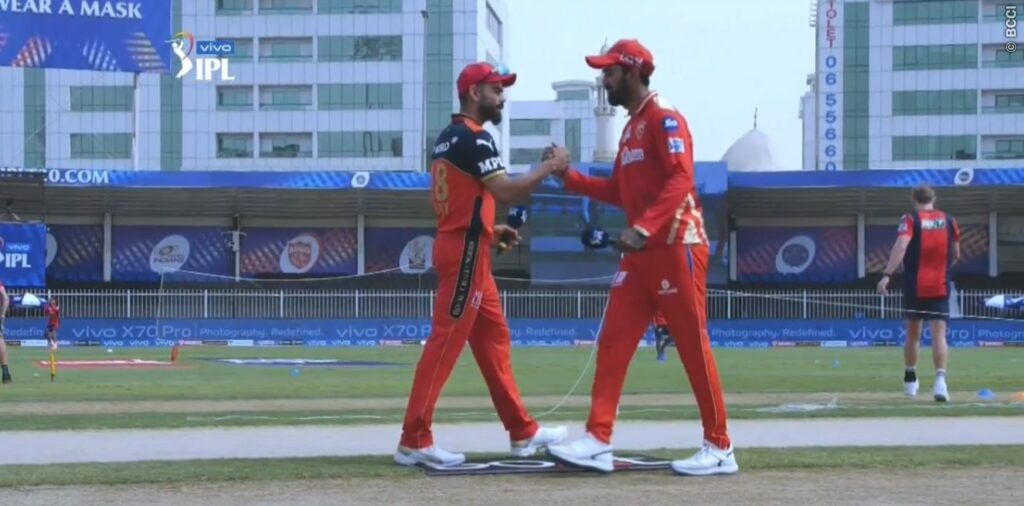 Both the teams have shown a strong preference for chasing in this rivalry, with RCB choosing to bowl first on 9 occasions and PBKS doing it on 10 instances in RCB vs PBKS, although it is hard to say it played a role in determining the winner.
The trend suggests both the teams are likely to field first in the PBKS vs RCB matches when the toss lands in their favor.