JeetWin is an exclusive online cricket betting site for India and Bangladesh. They have Indian promotions, and payment methods to make it easier for Indian players. Jeetwin offers deposits and withdrawals in INR and BDT on the casino, sports and live casino games, and a totally dedicated Indian and Bangladeshi support team available 24/7 for live chat support.
What more do you want?
It started in 2017 with a few games and gradually increased its offerings. Today, Jeetwin claims to be the #1 online gambling casino in India and Bangladesh. They are well aware of the taste of their cricket-crazy customers and have made it easy for them to navigate through the platform.
JeetWin rewards loyal users under their loyalty program. Various tier includes – Bronze, Silver, Gold, Pearl, Ruby and Kohinoor. The rewards and benefits increase as the users rise the loyalty tiers. Multiple payment options, excellent customer support and attractive bonuses make JeetWin a great betting platform.
PROS
Easy to understand UI/UX
Multiple deposit options including UPI, Paytm, USDT, Nagad, Rocket, AstroPay, etc 
Multiple languages support – Hindi, English, Tamil and Bangla.
Smooth sign-up process
Excellent Customer Support
Deposit and Withdrawal in INR and BDT
Exchange Betting

Cons
JeetWin uses a third-party provider for Sports Exchange and betting which does not have a clean interface.
Limited Live cricket match coverage
Live scorecard, match commentary not provided
Withdrawal only via Bank Transfer

One of the issues we found with JeetWin is that the users cannot see the odds for cricket markets without signing up on the platform, unlike many other top cricket betting sites.
Just like there are two sides to a coin, JeetWin has its pros and cons. However, the benefits outweigh the disadvantages. In this JeetWin review, let's dive deep into the functioning and features of this cricket betting site.
JeetWin Bangladesh

JeetWin in Bangladesh is gradually strengthening its presence. JeetWin has multiple product offerings for the customers including online casino and sportsbook. The biggest asset for any betting platform is the deposit/withdrawal mechanism and customer support. JeetWin in Bangladesh nails both the areas.
Firstly, JeetWin BD offers multiple deposit options like – Astropay, Rocket, Nagad and Bank Transfers. They accept BDT for Bangladeshi users. The second best part is their customer service. The chat support team is very polite and agile. You can expect a response from them within a minute.
JeetWin is available in English and Bangla language in Bangladesh which is very convenient for the users.
JeetWin offers three sports platforms for their customers – 9Wickets (dedicated to only cricket), Saba Sports and iGK bet. But JeetWin has a clear priority for Cricket. They have a dedicated line item on the menu for cricket exchange.
The one downside we feel for JeetWin is that they use third-party betting platforms. The problem which such platforms are that they are comparatively difficult to navigate and might be overwhelming for beginners. If they can integrate the betting platform into their system, they will have more control over the entire interface and can provide a better user experience.
JeetWin also has dedicated promotions for Cricket and other sports including a 5% Weekly cashback program. We will cover more about Bonuses and Promotions later in the article.
| | | | | | | |
| --- | --- | --- | --- | --- | --- | --- |
| Bonus | Amount | Min Bonus | Max Bonus | Min Deposit | Frequency  | Turnover  |
| Unlimited Referral Bonus | ৳ 300  Free |   |   | ৳ 2,000 | Unlimited | 1X  |
| Weekly Sports Cashback | 5% | ৳ 100  | ৳ 15,000  |   | Weekly | 1X |
| 100% Slots Welcome Bonus | 100%  |   | ৳ 20,000  |   | Once  | 25X  |
| Spin And Win | 5  Free Spins after sign up. |   |   |   | Once  | 1X |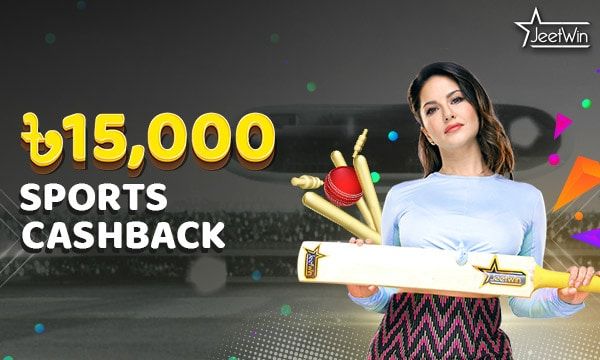 JeetWin India

Jeetwin India is the best sportsbook for players in India. There are many reasons why Jeetwin is an excellent place for Indian sports bettors. Let's take a closer look at key features which make a stand out from the crowd.
Firstly, Jeetwin caters to Indian sports betting public.  Jeetwin has sports markets that appeal more to Indian players. These sports markets include cricket and kabaddi.
JeetWin offers sports betting on two platforms – 9Wickets and BTI sportsbook.
JeetWin's BTI betting platform has the option to display odds in "Asian View". You can also choose to change to a European View. BTI sports book has many sports events to choose from however if you are interested in Cricket Betting, we recommend you to use the 9Wickets sports exchange on JeetWin. We have covered more details about Cricket Exchange betting on JeetWin in the next section.
Apart from sports betting options, what makes JeetWin India stand out is its customer service. JeetWin has fantastic customer support for players in India. The speed at which they serve their customers is commendable. Don't just take our word for it, you can try it for yourself.
One of the unique features is that JeetWin is also available in the Hindi and Tamil language for Indian users.
Lastly, JJeetWin accepts Indian currency and provides multiple deposit and withdrawal options including UPI, Paytm, USDT Bank Transfers, etc. The minimum deposit amount for Indian users can be as low as INR 500 and the maximum is INR 20,000 which varies as per the payment option. It is of no surprise that Jeetwin takes rupees considering its target market. Nevertheless, it is very convenient for all Indian players being able to play in INR. This means they do not have to convert their currency when making a deposit or withdrawals, which can incur charges.
An interesting finding, I found when speaking to Jeetwin's customer service that they only accept players from India. However, they do accept players from other countries providing they have an Indian Bank account.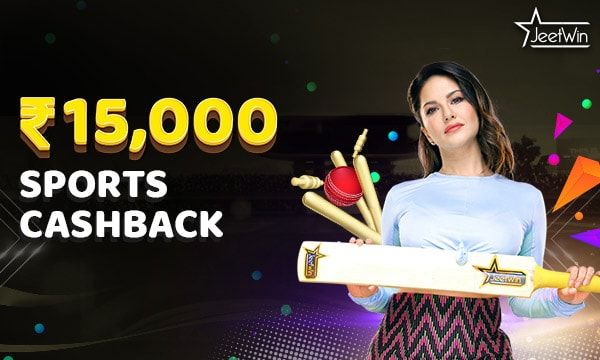 JeetWin Cricket Exchange

JeetWin recognizes the subcontinent's craze for cricket and betting on the sport. Hence they are ramping up their offering for Cricket betting for the customers.
JeetWin has started to offer Exchange Betting via 9Wickets, powered by Betfair, on its platform. Exchange betting is a type of betting where punters place bets against each other, unlike traditional betting where users bet against Bookmakers.
Think of it just like a stock market trading. Exchange betting offers better odds to users than traditional sportsbook betting.
JeetWin offers multiple betting options to the users rather than just betting on the match outcome. As JeetWin's customer, you can bet and participate in top batsman betting, top bowler betting, first innings score and so much more. The list is endless.
Another exciting feature at JeetWin is the "In-Play" betting means you can bet on events as they are happening. For example, how many runs will be scored in the next over, how many runs will be scored in the powerplay and so on.
One concern to note here is you cannot see the odds without logging in to JeetWin which is not the case with most other platforms (Exchanges or Sportsbook). This may be because JeetWin uses a third-party vendor for its exchange and they might require user login details.
JeetWin Live Streaming

JeetWin does offer Live Streaming of matches but it is not available for all the matches. Live streaming was available for ongoing Australia vs Sri Lanka series and European Cricket Series (T10). We did not find the live streaming for the county championship. It appears that the live streaming is not available for all the matches.
To access live streaming follow these steps –
Click "Cricket" on the top Menu Button
Select the "9Wickets" Sports Exchange
Log in with your credentials
Once you are on the 9Wickets terminal, select match
You can find that live streaming starts automatically

The live streaming footage, when available, is of high quality. Live betting odds on the game are available below the streaming.
JeetWin Bonus

JeetWin offers a slew of bonuses and promotions for casino games as well as sportsbooks. JeetWin has a special weekly sports cashback bonus.
Jeetwin also runs promotions on specific sports events. In recent times they have had promos such as IPL free bet. Players had the chance to win a ₹500  free bet during the IPL season. So is worth keeping your eyes open on the Jeetwin promotions page.
JeetWin Welcome Bonus

Once the user signs up on JeetWin, they are prompted for 5 free spins as a welcome bonus. New users have the opportunity to win iPhone 12 Pro max, OnePlus 8 Pro, ₹10,000 Free Credit, ₹5,000 Free Credit, ₹1,000 Free Credit, ₹500 Free Credit, ₹100 Free Credit, 15,000 Loyalty Points, 10,000 Loyalty Points, 5,000 Loyalty Points, 2,000 Loyalty Points and 1,000 Loyalty points.
The major benefit of loyalty points is that you can convert them to cash. The conversion ratio depends on your respective tier. You can only redeem loyalty points if you are a Silver Tier member or above.
They have a 100% deposit bonus up to 20000 INR/BDT for slot games, but nothing for the sports section.
JeetWin 5% Weekly Sports Cashback

JeetWin Cashback program is a special weekly sports cashback bonus. Users can get a weekly 5% cashback up to 15,000 INR/BDT. To qualify for this bonus, you need to have a registered account with JeetWin. Then every sports bet you place you will be eligible for a 5% cashback weekly.
The cashback amount is based on 5% of the total net sports losses. JeetWin also has Masti Monday Cashback where users can get cashback up to 10 lakhs INR/BDT for bets placed on Slots, Live Casino, Tables and E-Games.
Register an account with JeetWin.
Place bets on any sporting events to be eligible for cashback.
Cashback up to ৳ 15,000 or INR 15,000will be credited every Monday.

Event Details:
Unlimited Referral Bonus

Invite your friend on JeetWin and get Bonus!
1. Register an account with JeetWin.
2. Invite your friend to join JeetWin by sharing your referral link.
3. Once your friend signs up and completes ৳ 2,000 deposit requirement, both you and your friend will receive a referral ticket.
4. Referral ticket with a value of ৳ 300 can be redeemed from the Referral page.
JeetWin Free Bet

JeetWin does not offer any free bet to the users. However, it is always a good habit to keep checking the promotions tab to try your luck finding free bets.
JeetWin Free Spins

JeetWin Free Spins are offered to new users who sign up on the platform. Every user gets 5 free spins and there are several offers up for grabs for lucky users.
JeetWin introduced Cricket Free Spins for Indian users during the recently concluded IPL 2022. Lucky users were eligible to win the following prices – iPhone 12, ₹100,000 Free Credit, ₹10,000 Free Credit, ₹1,000 Free Credit, ₹300 Free Credit, ₹250 Free Credit, ₹200 Free Credit ₹150 Free Credit, ₹100 Free Credit, ₹50 Free Credit.
A user should have had a minimum daily turnover of INR 50,000 for the JeetWin spin and win bonus.
What Other Bonuses Does JeetWin Offer?

Apart from the bonuses mentioned above JeetWin offers the following bonuses:
Birthday bonus
VIP Lucky Draw
Slots 2x lucky program
Unlimited Referral Bonus – 300 INR/BDT per referral.
100% slot welcome bonus – Max 20,000 INR/BDT

As mentioned earlier, JeetWin is very generous regarding bonuses and promotions. Make sure to check out the promotions section on the website to see all the offers available.
| | | | |
| --- | --- | --- | --- |
| JeetWin Bonus | Eligibility | Time Limit | Turnover |
| Weekly Sports Cashback (5%) | Only sports bets will be considered. | Held Weekly | 1x |
| Cricket Free Spin | Eligible for Indian users only | During IPL season | Minimum Rs. 50,000 (daily volume) to win 2 free spins |
JeetWin App

The Jeetwin app is compatible with iOS and Android. You can download the app for free from the Google Play Store or the Apple Store. Alternatively, you can head over to the Jeetwin site and scan the QR code provided. The Jeetwin app has a simple but very effective design. Everything is where you expect it to be making placing a sports bet easy. The Jeetwin app also has in-play betting. This means you can put new bets on matches that are currently being played. Also, you can cash out on any sports bets you have already placed.
Overall the Jeetwin App is well designed and very intuitive. But, as Jeetwin primary focuses is on its online casino, the sportsbook doesn't feel as slick as could be.

How to download and install the JeetWin app on Android?

A full-fledged JeetWin app is available for Android users. Here are the steps to download and install the JeetWin app on android:
Open JeetWin's official website on your android device in any browser.
Scroll down and click on the Download button beside the Android app banner
You will be prompted to install the apk file.
Ignore the "This File can be harmful" option. It is safe to do so.
Click on download now and install the JeetWin App.


Log in through the app and start placing bets on your favourite cricket matches.
How to download and install the JeetWin app on iOS?

Just like Android, the JeetWin app is available on the iOS platform as well. JeetWin is one of the few betting platforms that have an iOS mobile application.
Here are the steps to download and install the JeetWin iOS app.
Open JeetWin's official website on your iPhone device in any browser.
Scroll down and click on the Download button beside the Apple banner
You will be prompted to install the app.
Ignore any warning that iOS may throw.. It is safe to do so.
Click on download now and install the JeetWin App.


Log in through the app and start placing bets on cricket matches.
JeetWin Betting

JeetWin offers Exchange Cricket Betting via 9Wickets. Live (In play) betting, fancy bet and sportsbook betting options are available on the site.
JeetWin Betting allows users to bet on the ongoing events in the match. For example, you can place a bet on the number of runs that will be scored on the next ball, or the next over.
With that being said, the interface can be tricky to use for first-time users. As a new user, you might find not find it easy to navigate through the platform to place your bets. But once you get hang of the platform, it will be a piece of cake.
The BTI sportsbook option also allows cricket betting but has limited betting options.
Here is the list of sports covered by JeetWin –
Cricket
Soccer
Tennis
Kabaddi
E-soccer
Basketball
Badminton
Baseball
Volleyball
Ice Hockey
Futsal
Table Tennis

There are multiple sports to bet on at JeetWin so you can pick your favourite sport and start betting today.
How to place a bet on JeetWin?

Placing a bet on JeetWin is a straightforward task. Follow these easy steps to place your bet on JeetWin –
Click "Cricket" on the top Menu Button
Select the "9Wickets" Sports Exchange
Once you are on the 9 wickets terminal, select the match you want to bet on
Choose among multiple betting options available
Enter your stake at preferred odds
Click Place Bet.

Once you complete the above-mentioned process, your bet will be reflected in the bet slip.
JeetWin also offers sportsbook betting via BTI. Here are the steps to follow for BTI Betting
Click "Sports" on the top Menu Button
Select the "BTI" SportsBook
Once you are on the BTI terminal, select the sport you want to bet on
Select your match
Choose among the multiple betting options available
Enter your stake at preferred odds
Click Place Bet.

BTI SportsBook allows you to switch between Asian and European views. You can select the one you are comfortable with in the top left corner.
What are the Best Features of JeetWin?

Let us run you through some of the Best Features of JeetWin
Exchange Betting
JeetWin's exchange betting feature is for bettors who want to bet against each other. The odds in exchange for betting are offered by other customers like you and me. You get better chances and odds than a traditional bookmaker offers. Hence you can win more when you are right.
Excellent Customer support:
JeetWin's customer support is super quick. The Customer Care executives both in India and Bangladesh are polite and professional. You can expect a response from them within minutes. Customer support is available 24*7.
Deposit/Withdrawal option
JeetWin offers adequate multiple banking options for both Indian and Bangladeshi customers. Hence, it makes it very convenient for users to add funds to JeetWin's wallet.
Attractive Bonuses and Promotions
JeetWin has several offers for its customers. You can find details of the running promotions under the promotion tab.
What is the "JeetWin Sign Up" Process?

JeetWin Sign Up process is quite simple and intuitive. Here is a step-by-step guide to signing up on JeetWin
Visit JeetWin's official site and click Join Now at the top right
Fill in your details and set a password
Enter the OTP sent to the registered number and voila your account is set up.


You can get started with your betting journey in seconds. JeetWin sign-up Bangladesh and India process is similar and straightforward. Once you have created your account, you can sign in JeetWin account whenever you intend to place a bet.
The Jeetwin login is very straightforward. At the top of the Jeetwin page, you can input your username and password. Then click the login button, and you're ready to start betting. If you're new to Jeetwin, registering is just as effortless. Click the "join now" button in the top-right hand corner of the page, and you will be redirected to the sign-up page. Jeetwin has a two-step registration process. The first step requires you to provide a username, email and password for your account. On the second step, you will be prompted to put your name, mobile number, DOB and select your currency.  Once completed, click the sign-up button and you're ready to begin placing sports bets.
Once you have logged in you will find all the shortcuts to making a deposit and your account in the top right-hand corner of the page. You will also see a section called Jeet Privilege. This is Jeetwin's rewards program were the loyalty points you amass garner towards exclusive benefits. All new players can receive 2,500 when they make their first deposit.
JeetWin Casino

The Jeetwin Casino is the number one online casino in India. Jeetwin have catered heavily to the needs of Indian consumers through crucial details in their casino. First, they have included popular Indian casino games such as Teen Patti and Andar Bahar. Also, they have enlisted the best software providers for their online slots with the likes of NetEnt and Microgaming all making an appearance. Jeetwin has also included an excellent live casino to provide an immersive gaming experience. Surprisingly, Bollywood Star makes Sunny Leone occasionally makes an appearance in the Jeetwin live casino. She also features heavily throughout the site as she is a brand ambassador of Jeetwin.
Jeetwin has many promotions for its online casino for new players and existing players. The one that caught our attention was the 1,000 INR no deposit bonus. All you need to do is create an account and apply for the promotion. If your details are verified the bonus money will be credited to your account. Moreover, this bonus carries a wagering requirement of 20x. This turnover is relatively low considering you don't have to make da deposit.
Overall, the Jeetwin casino has great design and juicy promotions. An Indian player will thoroughly enjoy themselves in this online casino.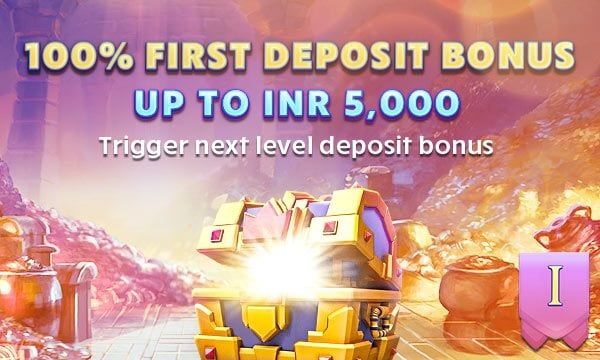 Register an account with JeetWin.
Verify your details.
Deposit using AstroPay or one of the many other payment methods
You will be creditted with 100% bonus up to INR 5,000 for Live Casino or up to INR 20,000 for casino slot games

The 100% match deposit bonus is available to play in JeetWin's live casino and casino
Is JeetWin Legal?

JeetWin is licensed and regulated by the Curacao authority. The company also ensures all the safety and security measures. JeetWin's games except for Live Casino use a certified Random Number Generator (RNG) to randomize the outcome via a complex set of algorithms to avoid any unfair advantage to any party.
Is JeetWin Legal in India?

Jeetwin is exclusively for Indian players! But is Jeetwin legal in India? A fair question to ask for a relatively young gambling platform. Jeetwin does accept players from India and takes Indian Rupees. But, the cause for concern of its legality has more to do with the regulations in place than Jeetwin. The gambling laws in India neither state for or against online gambling. This matter has currently been under review by the Indian government, as online gambling has become increasingly popular. With the topic of what constitutes to a skill based game and what is down to chance being hotly debated in Indian parliament. Although Jeetwin cater heavily to the local Indian market, they are still a foreign based company. Therefore players in Indian can join JeetWin without breaking any laws.
Jeetwin has implemented a number of protocols to provide a safe and secure gambling environment. As they're licensed internationally by the Curacao Gaming Commission, they have to adhere to strict list of rules. Jeetwin makes use of a state of the art SSL encryption software to ensure all customers data is kept safe and secure. This means players can place sports bets with Jeetwin with the peace of mind their personal information is safely secured. Also, Jeetwin uses industry standard firewall software to ensure all financial transactions are secure.
JeetWin offers India based players the following deposit and withdrawal banking options: Bank Deposit, Skrill, Neteller, Rupee-o, AstroPay, EazyPay, Paytm, Phonepe, Unified Payments Interface.
Is JeetWin legal in Bangladesh?

The gambling laws for Bangladesh too are in a grey state as India's laws. Bangladesh legislation states that any kind of betting on the ground is prohibited but there are no clear laws for online betting/gambling.
About JeetWin

First launched in 2017, JeetWin is an online casino and sports betting platform available in India and Bangladesh. They have multiple product offerings for their customers in India and Bangladesh. JeetWin offers everything from a traditional card game to modern interactive slot games on its platform. They offer exchange betting for major sports like Cricket and Soccer.