DC vs SRH Head To Head
Sunrisers Hyderabad have had an upper hand in the DC vs SRH head to head battles over the years. They have a win percentage of 55% in 
the rivalry with 11 victories out of 20 games.
It rises to 60% when they play at home and even better 80% away from home.
Talking about the matches in India, SRH are leading the scoreline marginally with eight victories compared to seven by DC. The recent record is in favour of the Delhi Capitals, winning both the games in the IPL 2021.
DC are unbeaten in the knockout matches against SRH over the years in IPL - Cricket Betting
A season earlier, SRH won both the league games but DC took revenge in Qualifier 2. In the 2019 edition of the Indian Premier League, DC claimed two of the three games, including the Eliminator.
At neutral venues, the two teams have faced each other in 10 matches. DC have won six while SRH have claimed four. The 2022 IPL is going to take place in four venues in Maharashtra.
In neutral venues, Delhi will back themselves to beat Sunrisers Hyderabad, which anyway given the recent history of the two teams, seems very likely.
DC have managed only one win at home from five matches with a win percentage of 20%. Batting first, DC have won 40% of their matches against SRH, winning four out of 10 instances.
Head to Head
DC Played
DC Won
DC Win %
SRH Played
SRH Won
SRH Win %
Overall
20
9
45%
20
11
55%
Bat First
10
4
40%
10
5
50%
Bowl First
10
5
50%
10
6
60%
Home
5
1
20%
5
3
60%
Away
5
2
40%
5
4
80%
Neutral
10
6
60%
10
4
40%
DC vs SRH Team Results
 
 
 
 
 
DC's best result comes at neutral venues, winning 60% of the matches against SRH. Notably,  Delhi have won only 20% of the matches at their home ground against Sunrisers Hyderabad.
On away grounds too, the Capitals haven't quite been up to mark against SRH, winning just two of the five matches. To their advantage the Indian Premier League this edition will be played in neutral venues where they hold the edge over Sunrisers Hyderabad.
Delhi Capitals have never been able to cross the 200-run barrier in the SRH vs DC head to head contests. Their highest team total against SRH read 189. Sunrisers Hyderabad had smashed 219 against DC once.
As for the lowest scores, DC were shot out for 80 once while SRH's lowest total in a full match reads 116. Sunrisers have thrived when batting first with an average first innings score of 170, much higher than Delhi's 149.
Head to Head
DC
SRH
Highest Team Score
189
219
Lowest Team Score
80
116
Average 1st Inn Score
149
170
Average 2nd Inn Score
159
134
DC vs SRH Team Scores
 
Shikhar Dhawan, who has also played for DC and was a consistent member in their playing XI, leads the batting charts from the Sunrisers side in the DC vs SRH head to head battles.
Dhawan has scored 522 runs playing for SRH. Rishabh Pant leads the way for DC with 466 runs against SRH. Rashid Khan is the leading wicket-taker for SRH with 15 wickets while Kagiso Rabada has picked 14 scalps for DC.
Rishabh Pant slammed 128* against Sunrisers Hyderabad to really announce himself in the IPL and the innings, notable for him taking down Bhuvneshwar Kumar in the death overs, is the highest score by a Delhi Capitals batter in SRH vs DC head to head matches in IPL.
For SRH, Shikhar Dhawan scored 92 against Delhi Capitals, his future franchise, and is the highest score against DC by an SRH player.
Head to Head
DC
SRH
Most Runs
466 – Rishabh Pant
522 – Shikhar Dhawan
Highest Individual Score
128* – Rishabh Pant
92 – Shikhar Dhawan
Most Wickets
14 – Kagiso Rabada
15 – Rashid Khan
Best Bowling Figures
4/17 – JP Duminy
3/7 – Rashid Khan
DC vs SRH Individual Stats
 
While Rishabh Pant remains a key player for Delhi Capitals, set to lead the franchise in IPL 2022, the rest have left their respective franchises. Rashid Khan and Shikhar Dhawan will turn out for different teams this year.
Rashid Khan will feature for Gujarat Titans while Dhawan will turn up for Punjab Kings after the IPL 2022 auction.
Tournament
Match Date
Venue
Match Winner
Margin
IPL 2022
05-05-2022
Mumbai
DC
Won by 21 runs
IPL 2021
9/22/2021
Dubai
DC
Won by 8 wickets
IPL 2021
4/25/2021
Chennai
DC
Won by NA tie
IPL 2020
11-08-2020
Abu Dhabi
DC
Won by 17 runs
IPL 2020
10/27/2020
Dubai
SRH
Won by 88 runs
IPL 2020
9/29/2020
Abu Dhabi
SRH
Won by 15 runs
IPL 2019
05-08-2019
Visakhapatnam
DC
Won by 2 wickets
IPL 2019
4/14/2019
Hyderabad
DC
Won by 39 runs
IPL 2019
04-04-2019
Delhi
SRH
Won by 5 wickets
IPL 2018
05-10-2018
Delhi
SRH
Won by 9 wickets
IPL 2018
05-05-2018
Hyderabad
SRH
Won by 7 wickets
IPL 2017
05-02-2017
Delhi
DC
Won by 6 wickets
IPL 2017
4/19/2017
Hyderabad
SRH
Won by 15 runs
IPL 2016
5/20/2016
Raipur
DC
Won by 6 wickets
IPL 2016
05-12-2016
Hyderabad
DC
Won by 7 wickets
IPL 2015
05-09-2015
Raipur
SRH
Won by 6 runs
IPL 2015
4/18/2015
Visakhapatnam
DC
Won by 4 runs
IPL 2014
05-10-2014
Delhi
SRH
Won by 8 wickets
IPL 2014
4/25/2014
NA
SRH
Won by 4 runs
IPL 2013
05-04-2013
Hyderabad
SRH
Won by 6 wickets
IPL 2013
04-12-2013
Delhi
SRH
Won by 3 wickets
DC vs SRH IPL Matches Since 2013
 
 
SRH vs DC Toss
Delhi Capitals have enjoyed good fortune when it comes to the DC vs SRH toss results.
Out of 20 clashes between the two teams, DC have won the SRH vs DC toss on 13 occasions with SRH winning it 7 times.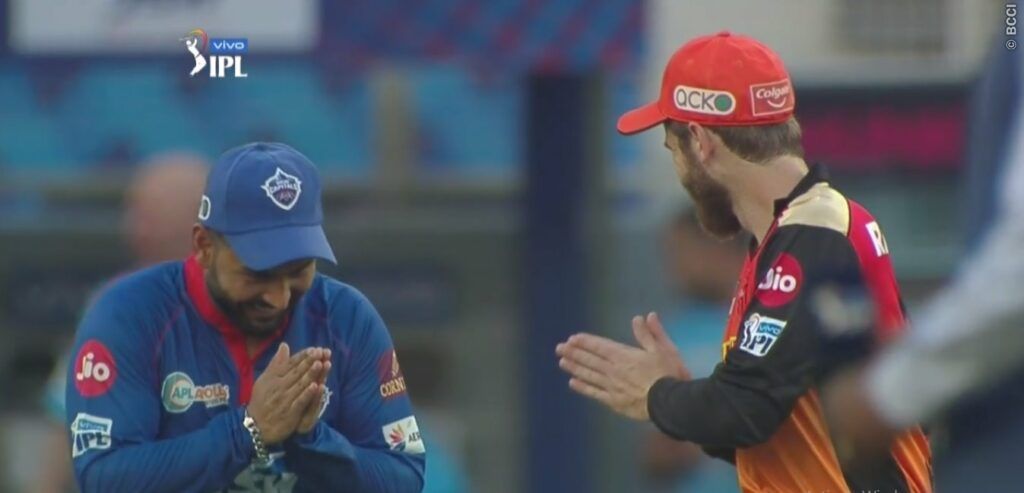 DC have chosen to bat first on seven instances. Their win percentage when they win the toss reads 54%, having won seven games. SRH have preferred batting first on five out of seven tosses they won.
They've won 71% of their matches after winning the toss, with five victories. The decision from both these sides at the toss in the SRH vs DC matches seems to be based on the pitch report on the match day.